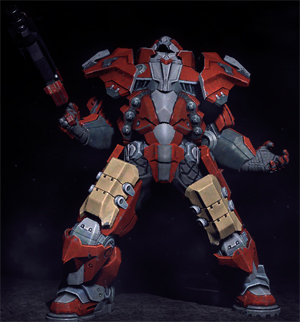 Heavy Offense (HO)
is a term for a player in heavy armor that uses their powerful weapons to attack the enemy base.

This role is usually filled by Juggernauts and Brutes.
Role Essentials
Edit
The primary role of this player is to clear the enemy flag stand of defenses and destroy the enemy Base Turrets and Radar Sensor to help the Capper grab the flag. Juggernauts and Brutes can use their Spinfusors to disk-snipe Base Assets from a distance. Juggernauts can use their Mortar weapons to shell the flag stand and clear it of deployable defenses (Turrets, Force Fields, Mines) placed by Doombringers and Technicians. Brutes often use their Fractal Grenades to clear the flag stand.
A secondary objective of this player role is to destroy the enemy Generator. The generator is often seen as a primary objective because destroying it will also disable the enemy Sensors, Turrets, and Inventory Stations. It is important to remember however that even if the generator is offline the entire match, your team will still lose if the enemy captures the flag enough times.
The goal of Heavy Offense is to clear the enemy base of anything that can stop the Capper. The HO weapons should therefore reflect this. If the HO is going to disable Base Turrets or Sensors for example, the best way is to use a Spinfusor from a distance. Below is a breakdown of useful equipment for base destruction:
Voice Commands
Edit
Communication is important to let your team know what you'll be doing. These VGS commands will tell them what you need:
VSAB - I will attack the enemy base! This command lets your team know that you will be attacking, the sound of your voice tells them that you are in heavy armor. You can be more specific by using the next few commands.
VSAT - I'll attack the enemy turrets! This command tells your team that you will destroy the Base Turrets.
VSAS - I'll attack the enemy sensors! This command tells your team that you will destroy the Radar Sensor.
VSAG - I'll attack the enemy generator! This command tells your team that you will destroy the Generator.
VNR - I need a ride. This command tells your team that you need a vehicle to carry you to the enemy base quickly (since heavy armor is typically slow).
Video Guides
Edit
Juggernaut Heavy Offence (HO) Guide by Roxton
Ad blocker interference detected!
Wikia is a free-to-use site that makes money from advertising. We have a modified experience for viewers using ad blockers

Wikia is not accessible if you've made further modifications. Remove the custom ad blocker rule(s) and the page will load as expected.